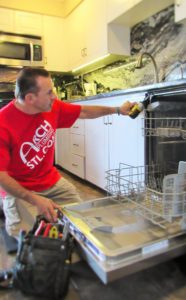 Like many, you've probably looked forward to upgrading that old crummy stove, refrigerator, dishwasher, or washer/dryer with a new high-tech model. Once the new one arrives, there's a natural tendency to open up the box, grab the instructions, and plunge into the project on your own. We get it. However, maybe you ought to pause first and contemplate having that major appliance installed by a professional instead. Here are some good reasons why:
Because It's "Major"
Small electronic devices today tend to be user-friendly "plug and play" stuff. Major appliances—not so much. Large units may involve heavy-duty hard wiring, high voltage, and critical gas and plumbing connections. You'll need more than a screwdriver and pliers for this task. Just moving around and positioning large, heavy appliances without the right equipment can be damaging to your home's flooring, walls, or the unit itself. More importantly, lifting an unsafe amount of weight by yourself or with unskilled help can be physically dangerous. If you're replacing an existing unit, there's the additional pain—literally—of getting that old behemoth safely out of the house and properly disposed of, too. Keep in mind that you probably can't simply put it out with the trash.
Because It's Not Safe
Installing a gas oven/stove combo, for example, means handling connections for toxic and highly flammable natural gas as well as electrical hookups. The highly hazardous consequences of getting it wrong may become evident all too soon. Dishwashers typically require wiring (not plugging) into an electrical junction box, which requires splicing bare wires, proper grounding, and the dangers that go with it. Dryer installations are also safety-critical due to fire hazard from unskilled venting. Water/drain connections for some appliances aren't as simple as attaching a garden hose–and household water damage from a leaky installation could prove highly expensive.
Because The Unexpected Happens
If you're upgrading from old-school to brand-new, you could have a surprise in store: your existing household electrical, plumbing, and gas connections may not match those on the new appliance. Standards have upgraded over the years. This will require additional know-how, tools, and parts that you may not have readily available.
Because The Warranty May Say So
Yep. Manufacturers have a vested interest in proper installation to ensure safe operation as well as performance specs and expected service life. A manufacturer may require proof of installation by a qualified pro in order to get warranty service. We don't blame them!
When in doubt, leave it up to the pros so you can enjoy your new appliances without the additional stress of installing them yourself. Avoid potential damages and avoid putting yourself in danger.
Arch Plumbing is located in St.Charles, Missouri and has been in the service business since 2008 providing quality plumbing services.