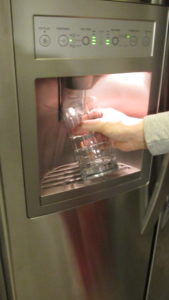 Buying a new refrigerator can be a really exciting purchase and one that should last you a decade, or longer. Today's refrigerators are rich in technology and innovation and most come with a factory-installed ice maker and water dispenser. If you have recently bought a fridge with an ice maker, chances are you will need to hire a plumber to help install it. Here's why:
Using a Professional Plumber for Your New Refrigerator and Ice Maker
Installing a new refrigerator with an ice maker can be more challenging than you might think and it is imperative that it gets installed properly. Having an automatic ice maker and filtered water adds convenience to your kitchen but without a water line, the ice maker and built-in water dispenser are rendered useless. Depending on the design of your kitchen, you may or may not have an existing water line for your ice maker. If there is a water line, it might need to be moved or repaired by profesional plumber. If your kitchen does not have a water line, a plumber can run a water line from the nearest water source (usually the kitchen sink). The water line will then need to be run through any cabinets or floors and come out right behind the refrigerator. If you try and do this yourself, you could potentially flood your entire kitchen and have to pay thousands to have repair the damage. It is essential that the water line be installed correctly to ensure proper water flow to the appliance.
Can I Install A Water Line Myself?
Many refrigerators come with water connection kits for the ice maker but most plumbers and refrigerator manufactures frown on using these. They can be improperly made or flimsy and can cause headaches and problems that most homeowners and renters do not want to deal with. Using a professional plumber to properly install your water line decreases the likelihood of leaks in your new line or damage during preparation.
Depending on where your water supply is, most jobs can be completed within a matter of hours. If drilling or plumbing upgrades are necessary for the job, then more time will be needed. Most ice maker water line installations are straightforward and do not have hidden charges but it depends on the condition and the plumbing system in your home.
Know When to Call An Expert
The key to a successful home project is knowing when to call an expert and when you can handle the job yourself. When it comes to new refrigerators with ice makers, remember that calling in a profesional plumber means they will do the job easier, quicker, often times for less money than doing it yourself, and above all ensure that the job is done right!
Arch Plumbing is located in St Charles, Missouri and has been in the service business since 2008 providing quality plumbing services.